Wes King in Concert
with special guests
Scott Krippayne and Cheri Keaggy
The concert started on time at 7:30pm, and after a few announcements from Bob Michaels, program director for Light 99 FM, he introduced Scott Krippayne who opened the show. Without a word Krippayne walked up to his keyboard, and with cheers of approval started playing the theme from Charlie Brown. Then came the Andy Griffith Show, and even got everyone to whistle along. After a few more (including the Jetson's theme), he started the serious stuff with his debut hit "All My Days". The first time I heard this song, it seemed reminiscent of Steely Dan. I could faintly hear a drum track ticking in the background, however it wasn't until the next song that I fully realized that even though Krippayne was playing a mean keyboard, he had intended to perform with a track. There was something obviously wrong with the sound, yet he never winced or scowled once. I imagine there were probably many people that were never aware there was anything wrong at all. Even when he closed with "Sometimes He Calms The Storm", and had just a faint track behind him, yet the performance was strong and inspiring.
After his set, Krippayne wasn't gone long from the stage before Bob Michaels called him back out for a special award. Michaels had just introduced the on-air staff for Light 99 FM, including for the first time, the "brand new guy" from Oklahoma City, Ryan Springer. Then he brought Krippayne back out for an award presented to him commemorating his first #1 song for "Sometimes He Calms The Storm." This award was brought by Grant Hubbard, also in attendance that evening and is the National Director of Radio Promotions for Word.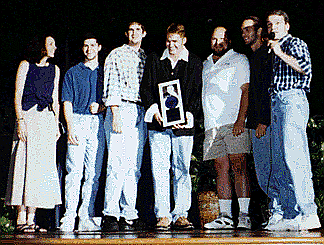 (l to r): Nancy Johnson (mornings with Craig & Nancy, 6am-9am), Ryan Springer (3pm-7pm), Sean Meade (Sunday night), Krippayne, Dan O'Neil (7pm-12am), Craig West (mornings with Craig & Nancy, 6am-9am), and Bob Michaels (10am-3pm, and program director).

At 8:00pm Cheri Keaggy came out for her set, and got off on a bad foot. The sound was still malfunctioning, and you couldn't really hear the beginning of "My Faith Will Stay", and neither could Keaggy, so she asked if they could start it over. Finally they got it fixed, and things sounded great, especially Keaggy's voice. She did songs from both her albums; both of which were produced by Charlie Peacock (who, by the way also produced Krippayne's debut effort). Even with the initial sound problems (which were much more noticeable since she didn't have any instrumentation until later), she kept her poise and professionalism, and put on an uplifting praise-filled performance.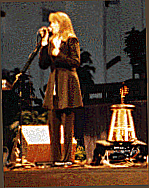 One story she shared that drew laughter from all, was how she was related to Phil Keaggy. She explained that since her first album, Child Of The Father, was released, many thought that she might be his daughter. So she said, "Tonight, to clear it up once and for all, so there's no more confusion ... you can spread it around - put it on the Internet, or whatever you what to do - I am Phil Keaggy's mom." After lots of laughter, she then said, "I'm sorry I couldn't resist. Of course, I'm too tall to be his mom." (more laughter) Then she finally explained ("I'm being truthful, now.") she was his niece by marriage. She married his nephew, so there is the Keaggy connection. To give you a little example of the kind of spirit this beautiful young singer/songwriter has, what she said next really summed up the mood of her whole performance. "As proud and delighted as I am to say that I am to be related to that man, I am even more proud to say that I am part of the universal family of God, as you are tonight with me." The biggest cheer was probably when she started her current hit, "Lay It Down", but my personal favorite was during the last half of the set, when she played the wonderful baby grand piano there at Central Community Church, specifically her beautiful song, "Open My Heart." What a talented songwriter! As a matter of fact, I believe excellent songwriting was one thing that all three of tonight's performers had in common.
Except for a couple songs with just him and guitar, Wes King, who started about 8:50pm, was accompanied by his road manager and good friend, Ken Lewis on drums and percussion. Many who go to concerts, are unconsciously expecting to hear the songs they hear on the radio, just as they heard them on the radio. I'm sorry to say, if that's your only expectation, then King's live performances are probably not for you. However, if you enjoy, hearing a truly gifted songwriter, singer, guitar player, then you're in for a real treat. Wes King is probably one of my all-time favorite guitar players, but I really only get to hear his true capabilities in a live concert. Not that his albums are not entertaining and spiritually uplifting; they are. However when you see King play live you are treated to a virtuoso guitar styling that is certainly unique and fascinating. There are bits of other guitar player's styles, but it is difficult to even describe his playing by identifying those influences. (For more info on his influences, see the interview.) I think the best way to experience his concert sound (if you've never heard him) is to listen to the instrumental beginning to "Martin Luther" on The Robe, or maybe "Rain On My Windshield" from Motivation. In addition to covering many songs from all his recordings (except the album Motivation, which was my favorite until Common Creed was released), he also did several new songs. I enjoyed them all, and can't wait for a new release.
Speaking of new releases, some exciting news that we just found out right before the concert was that Wes had just the previous day signed on the dotted line with the Sparrow Corporation, and was very excited about his new deal with them. During our interview (which was a little rushed, because it was late, and they had another show the next day in Alabama) I forgot to ask him about plans for a new record. I understand though, that he will be doing a new record for Sparrow, and we could expect it probably late winter or early spring next year.
Being a very well-read songwriter, Wes has an excellent way of incorporating the nuggets of wisdom he gleans from his studies. The most recent album, Common Creed, especially demonstrates this talent, and it is obvious in his live performances as well. Apparently the last few years have been tough for Wes in his spiritual life, as well as business life, and he shared that he had been doing some deep soul searching as to the big question, "What is my purpose?" He shared that struggle in one of his new songs, and how he found peace when he finally lie broken at the Savior's feet in a "Magnificent Defeat."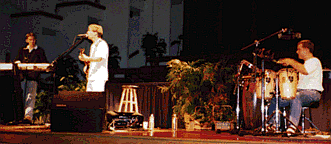 Towards the end of his set, he brought out Krippayne to help with keyboards and background vocals. On the last song, which was a new one about grace, Krippayne came in towards the end with "Amazing Grace" (an arrangement they just worked up during sound check), and then Keaggy came out and sang the last verse.
A great evening was had by all, and one interesting thing I noticed was even though this was a long concert (three and half hours), very few (I only saw a couple) left early. After the concert, all three artists stayed and signed autographs - Keaggy and Krippayne at their merchandise tables, but Wes got caught in the side hall of the sanctuary by eager fans.
In an industry that some say is moving away from a Christ-centered message and ministry, I say, that may well be true in some cases (and there are "Christian" artists who I enjoy merely for entertainment and music, more so than ministry), but listen to the music and message of Wes King and his two guests this evening, and you'll forget about any other message, but that of Christ and Him crucified.
---
---
Check out the Wes King Web Page at Sparrow Records
Go to Blackwood Music History Scrapbook
Last modified: July 21, 1996.