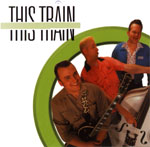 This Train
Calvary United Methodist Church
Wichita, KS
November 9, 1999

---
Blackwood Music History Scrapbook
---
(click on pictures to see a larger image)
This Train makes one of their rare appearances to Wichita. The crowd wasn't huge, but was very appreciative. They rocked the house with some old tunes and new ones from their latest CD, The Emperor's New Band. One bit of news we learned this evening was Mark's recent engagement. No date set yet, but it will certainly be tricky with all the projects they have coming up, including Ragamuffin Band dates next spring. In conjunction with the release of this new CD, they have filmed a new music video for "She's A Rocket." Read about the filming of the video on Musicforce.com, including some great pictures.
Mark Robertson on bass, lead vocals, and primary songwriter is also very busy with producing projects. His next project will be Mitch McVicker's second CD, being recorded in December 1999 and January 2000. Mark also told me he just picked up some staff songwriting duties at Myrrh Records. Check out Mark's Up Close & Personal article on Musicforce.com.
Jordan Richter on guitar and vocals, also doubles as a sound engineer both in the studio and for the Ragamuffins on the road.
Cobra Joe on drums. There was a strange rumor floating around that Cobra was not Y2K compliant. :-)
They closed with an acappella "Doxology" and packed up for an early drive to Dallas the next morning.
---
Blackwood Music History Scrapbook
---
last updated 09 Jan 2000
All photos Copyright © 1999, 2000, 2015 blackwoodmusichistory.com